A lot has happened since I've last baked. Namely, the addition of the sweetest baby girl we could ever have imagined. On August 3rd, our little family of four grew by o

ne

to welcome our first daughter, June Sawyer.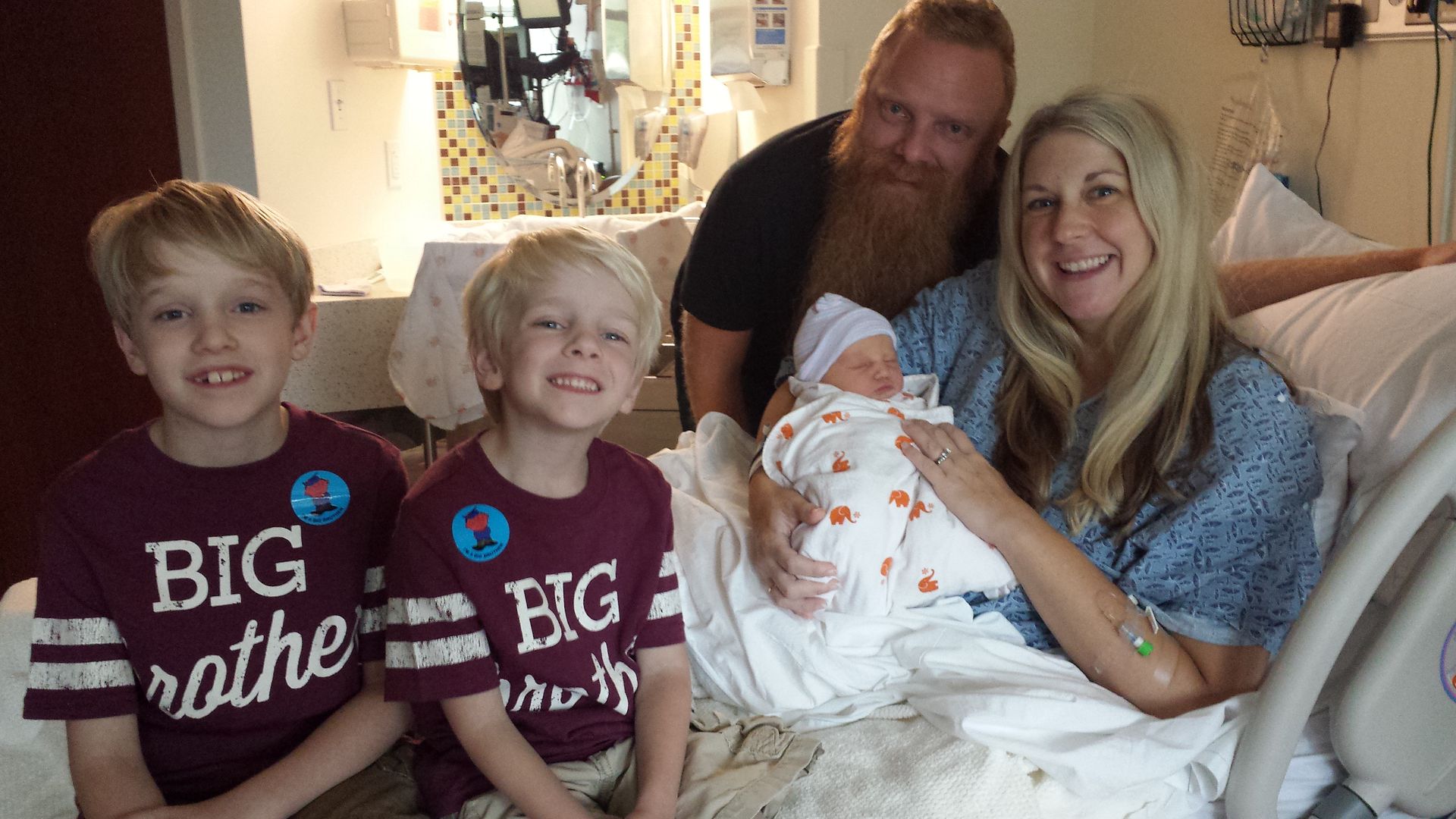 Even after five years,

l

ife with a newborn

wa

s everything I remembered and then some. With the birth of each of our children, I am reminded of the beauty

of

those slow, sle

epy

first few weeks with a new li

fe under our roof

.
But, shortly after June made our acqua

in

t

a

nce and wooed us all with her lovely

l

ittle self, she presented us with a situation we had yet to encounter as parents.

W

hile it is absolutely true that I am a much more relaxed parent the third time around, nothing (and no amount of years parenting) could ever have prepared me for

the journey we were about to take together

.
It was a Monday evening like any other tha

t

Will and I fi

rst

noticed June's spitting up had increased.

B
y Wednesday, she was projectile vomiting

,

followed by what appeared to be looser than normal

stools

.

Still, she didn

'

t have a fever. So

we

went into the pediatrician who assured us that June should begin to bounce back in the next 24 hours with the introduc

tion of small feedings of

P

edialyte.
Except that she didn't get better. By the next morning, June wasn't keeping anything down and was so lethargic I could barely wake her. And there was that bothersome little matter of no wet diapers in almost 1

8

hours. A call to the advice nurse confirmed my sinking suspicion - we needed to head into the ER.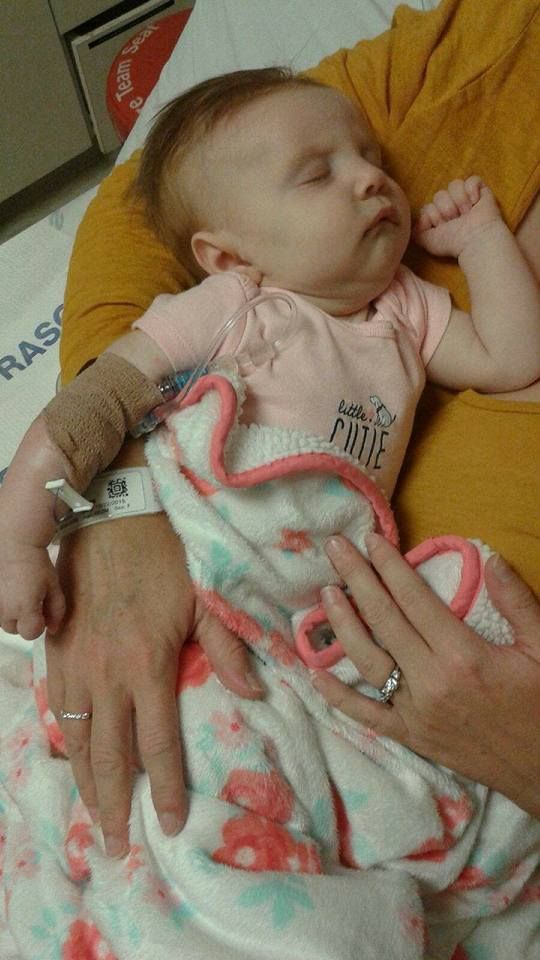 Luckily, a family friend

(

and emergency room physician

)

was able to provide immediate care for our sweet little one. After an abdominal ultrasound to rule ou

t

a physical blockage

,

it was determined that June most likely had a virus

.
IV fluids were started to address

dehydration

and

we were told she would need to be transferred by ambul

a

nce to a nearby children's hospital to

be admitted.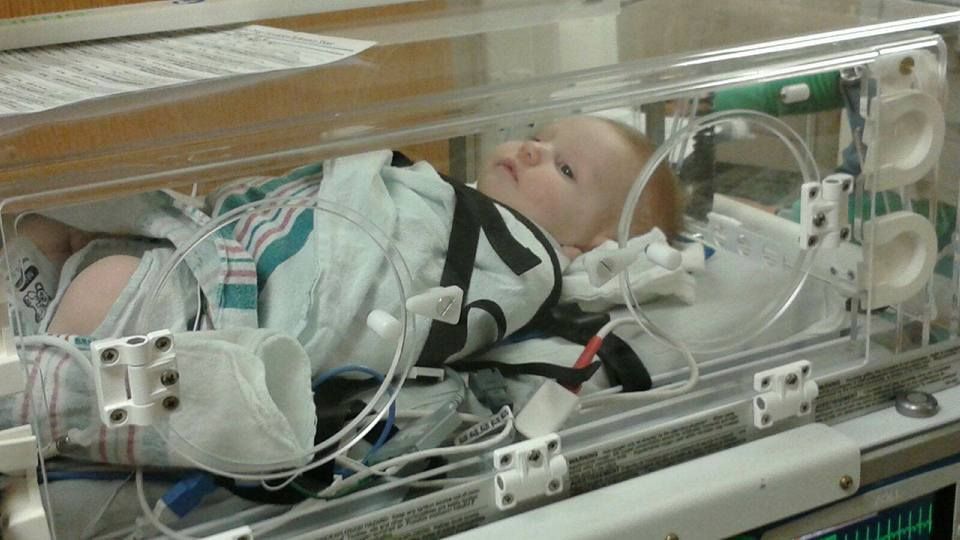 And that was when my world stopped spinning. Sure, we'd spent many evenings in the emergency room with our firstborn

son's

asthma. But the hospital

? That

was unchartered territory.
I struggled to wrap my head around our precious ten-pound

,

two

-

month

-

old little girl being rushed away from our home and our care. Big brothers who had just barely made their little sis

t

er's introduct

ion

now had to adjust

not only t

o her

, but Mommy,

being torn so abruptly from the rest of the family's daily life. I didn't know how long we would be gone, but I did know that June wasn't spending one second away from a parent. And that meant a sudden and painful absence from the other part of my life - the lunch packing, driving to school, volunteering in the classroom

,

doing homework

M

ommy that my boys had never been without. It was

t

hen that the weight of having three children hit me hard.

T

he realization that my heart

was

i

n more places than my body co

uld

simultaneously be was more than I

could bear.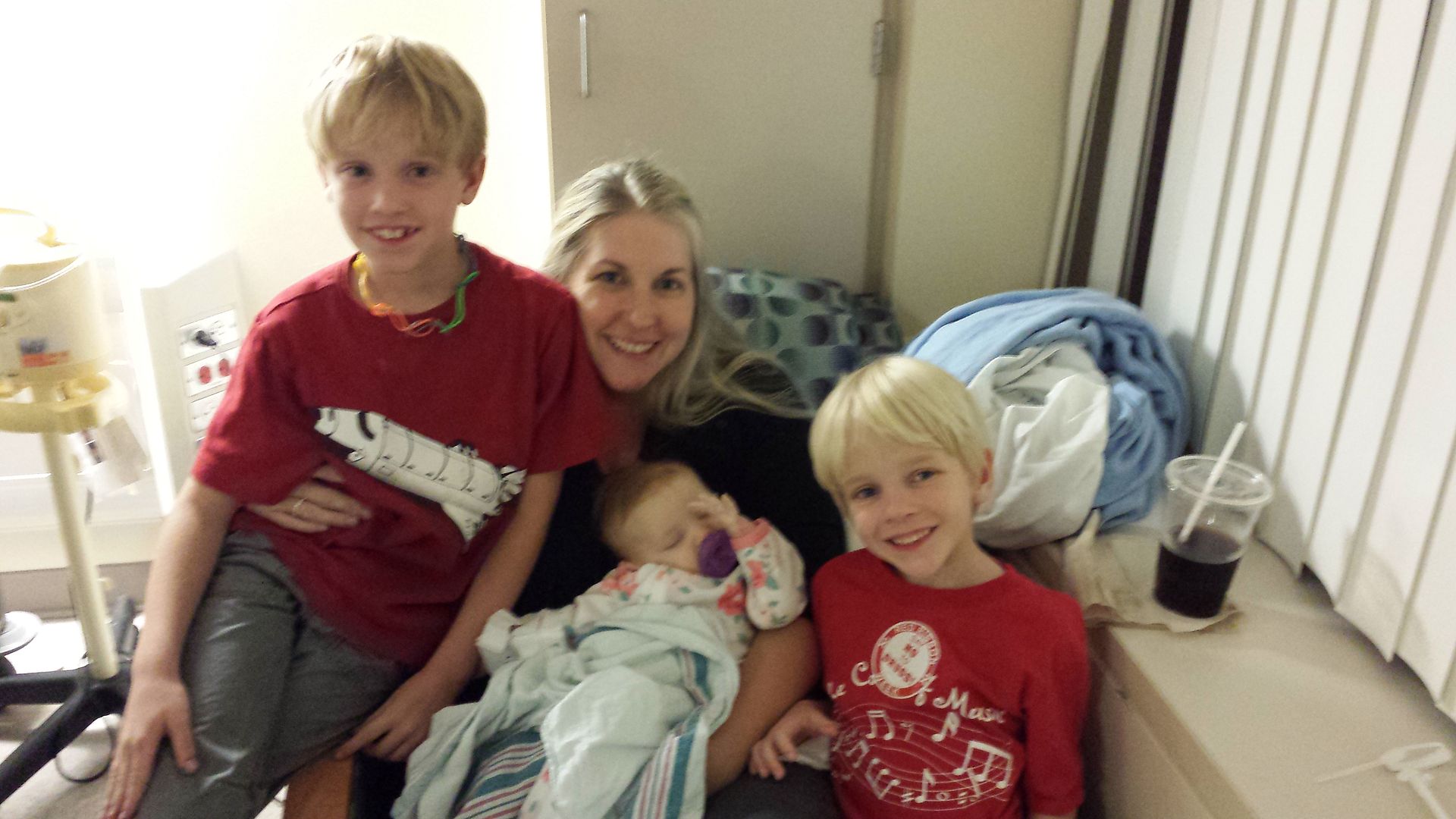 Immediately upon being admitted to UC Davis' Children's Ho

spital

, we were shown to our private room where June was assessed and Will and I answered the same questions for what felt like the 100th time that day
.
Over the course of that first

day

, I learned two important things. One - June and I weren't going anywhere anytime soon.

And t

wo - pediatric nurses are, in fac

t,

angels on earth.
Laurie

was our

day shift nurse on that first Thursday afternoon.
She conducted herself in such a calm, confident way that I instantly felt my
anxious energy subsiding.
Although

Laurie only officially acted as our nurse once

over the course of

our twelve day hospital

ization,

her care set the tone for the rest of our stay.
On her days as charge nurse,

Laurie

would pop in just to say hello.

And on

that terrifying evening six days in when I began to suspect that June's first IV (in her inner elbow) may no

longer

be
performin

g

,

s

he asked if it

might be alright

if she carried and accompanied June to the treatment room - not because it was her job, but because she had become a friend.
Several days later, a

s Halloween

quickly

approached, Laurie came to our room bearing pumpkins for the boys to decorate and the t

iniest

, sparkliest Cinderella costume for June to wear at the hospital's
festival
.
In an attempt to make June's new IV

(t

hat had been placed in her scalp

)

less scary for her older b

rothers (and
most likely for W

il

l and I, as well), several nurses had begun to refer to it as her

"crown

."

As a mother, I

was moved to tears by this gesture.

My boys had been regularly declaring

that this year

was going to be "the worst Halloween ever." And I

have to admit, Halloween was not high on my priority list at the time.

But because of amazing nurses like Laurie who gave up their own holiday to treat their patients to as "normal" a day as possible - complete with costumes, crafts, trick or treating at the nurses' stations and plenty of attention - Jun

e's first holiday was a

day we will

always remember.
As that first marathon day of emergency room to hospital ended and slowly turned into

night, we were introduced to Rachel, who would become our primary nurse. Rachel was exactly what I needed in the quiet hours of that first lo

nely, heavy

nigh
t, as I settled into the serious

ness of June's condition

and

struggled to nurse a baby who couldn't keep anything down.
Her sweet, quiet demeanor absorbed t

he
weight of my often uncontrollable tears

and fears that felt

much heavier
during the nighttime hours

.

But, I could rest and maybe even sleep a bit knowing June was safe in her care.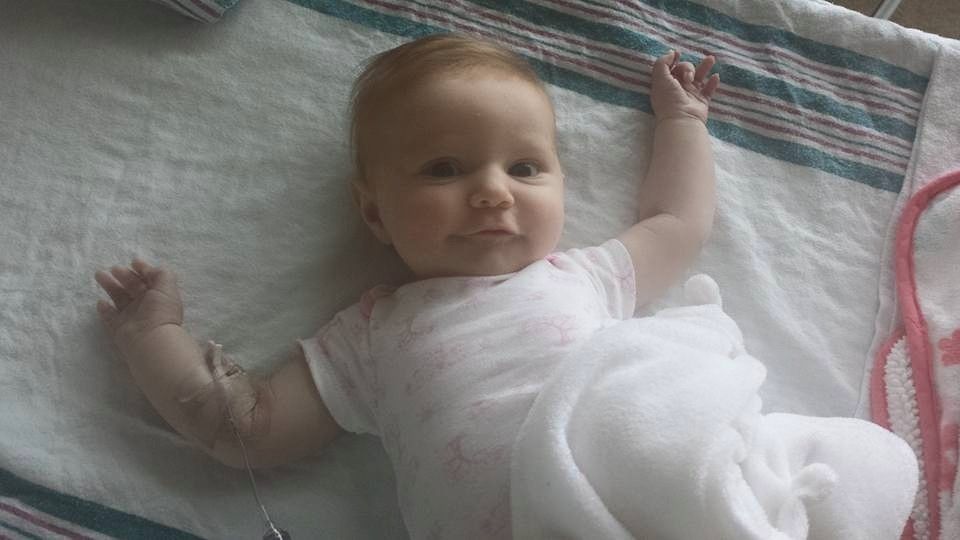 Each evening

after

Will and the boys said their goodbyes

,

I found myself sinking into a bit of a depression. But with Rache

l's help,

June and I found a means to combat t

hat isolation.

Once the older patients had returned to their rooms for the night and the hall lights were dimmed, Rachel would help me arrange June's
mess
of
wires and situate her safely in her M

oby wrap

for a walk around the floor. I eventually began to welcome and even look forward to our evening ritual

-

logging
up
to
t
wo

miles an evening by the end of our stay

-

as a time when I

could work out physically the stress of the day.

Looking back, i

n some strange way, I almost miss those nights - just my baby girl and I all snuggled together

.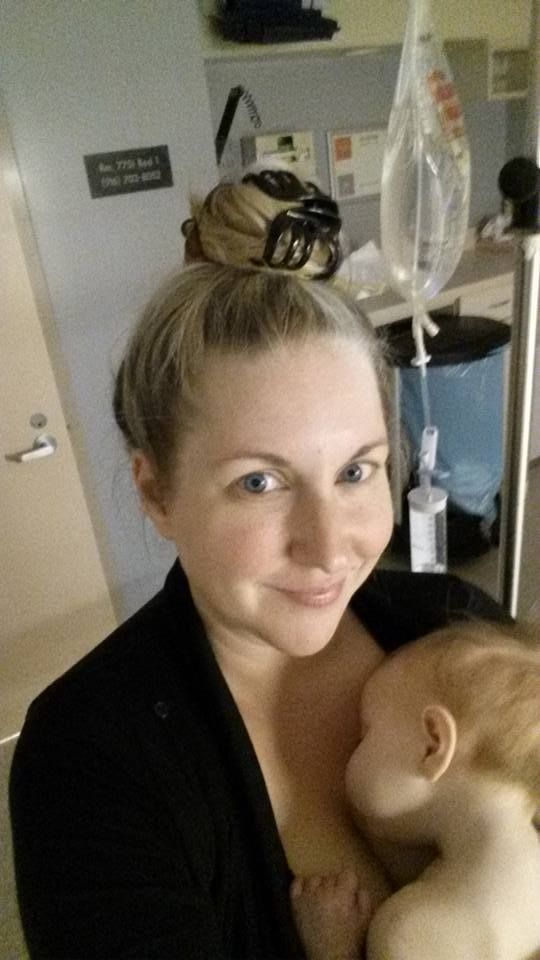 On our first evening without Rachel, I was introduced to Brooke. Brooke was a young mom who worked as a night nurse, freeing up day

s to care for

her fourteen month old daughter

, Harper. Her company
was a welcome light in those long, dark nights

.
Although June was my third child, I found myself returning to a bit o

f an

anxious

parent

in this stra

nge,
new
hospital world

.

But,

h

earing

Brooke's

stories about Harper

-

and even watching a video of her taking her first steps

-

gave me a hope and a vision of what the not too far off future with my own daughter might look like - if only we could get healthy

.
I will be fore

ver

grateful for Brooke

's

willingness and ability to balance motherhood and caring for

her patients

.

I have often thought that had I met Brooke in any other scenario, we would have been fast friends

.
But

she absolutely stole my heart when she mentioned that she might consider naming a future daughter June. I cannot think of a more touching tribute to those dreary, scary hospital days than a fresh little June, full of p

romise

(

no pressure, of course)

.
But, of all the nur

ses I encountered during our stay,

Lorinda tended
most directly to my

needs as a mo

ther

.
Her

contagious

enthusiasm for her job and optimism in the face of daily setbacks was exactly what I needed as I struggled to keep it

together without my husband by my side.
She simultaneously cared for my mental and physical health - bringing me tea and juice throughout the day so I wouldn't have to leave June's side, listening patiently and compassionately to my

tear-filled ramblings

and call

ing

me out when I so o

bviously

needed a break.
But, I will never for

get

the morning that she came into our room declaring what a beautiful day it was

and insisting

that I really needed to get outside to enjoy it. As she loaded Junie up into the most adorable wagon you have ever seen, I knew she could sense my fear. What would I do if her monitors started beeping? Surely I was not equipped for this solo venture out into the real world. And then she said something I will never forget

(

and have repeated to myself many times since

) -

"Just let her be a baby." How simple, yet complicated

that

was

.
In less tha

n a week,

Ju

ne

had become a patient in my eyes

and

I wasn't certain I knew how to let her be a baby an

ymore. But,

that short break to breathe in the fresh air and reaffirm that life was indeed still going on outside of the hospital walls was exactly what I needed to renew my

spirit

. When we returned to our room one hour later for June's bath, it was with a renewed fo

cus and strength as a mother.
In the beginning, the hospital represented sickness and sadness and I literally itched to get out. But as
that first day turned into two and slowly into a week...and then ten days without much improvement, I felt my mindset change in regard to leaving this place.
In a strange way that I am not even sure how to articulate yet, I grew cautious of discharge - not only because of the fear that June's health now rested squarely and solely on my shoulders, but because I knew on some level I would miss what we had cultivated in that little room on the seventh floor. June and I had grown so much in our own relationship with all of the one on one time not typically afforded a third child. But, we had also adopted our own family of sorts - our "hospital family" - the people who had become our support system, caretakers, confidants and friends when our biological family couldn't be by our side. These amazing women - along with
all
of June's nurses and doctors - had become so much more than medical professionals.
T

heir fingerprints and hearts

were

forever imbedded in

the

life of our fami

ly.
When we think about all that we are thankful for this year, these extraordinary women top the list.

Even a

s we were pulling away from the hospital o

n that Monday evening just over one month ago

, my seven year old proclaimed that we would probably need to make pies for the nurses. And several days later, when my husband voiced the same thing - asserting that the act of blogging might even help me process the whole experience

-

I knew that my next pies

were already reserved for the most special group of women I have ever had the pleasure of knowing.
Seeing as how we were hospitalized in late fall, and particularly over the Halloween holiday, a pumpkin pie seemed only fitting. So, in honor of Laurie, Rachel, Brook

e and Lorinda

, I proudly and humbly present the UC Davis Nurses' "Thank You For Caring For Our Little Pumpkin" Pumpkin Chiffon Pie

s.
In keeping with the fall theme, I began my crust by processing graham crackers, pecan pieces, and a touch of both brown and white sugars until finely ground. I then added just enough melted butter to the dry mixture to hold. Using the bottom of a juice glass, I firmly pressed the crumble into the pie tins and baked the crusts until golden and toasty.
Meanwhile, I combined pure pumpkin puree, salt, gelatin, egg yolks, evaporated milk and my own modified blend of pumpkin pie spices - cinnamon, ground ginger and clove - in a saucepan and cooked on medium heat until boiling.
While the pumpkin filling cooled, I began my first homemade marshmallow creme by whisking egg whites into soft peaks. In a separate saucepan, I brought granulated sugar, water, and light corn syrup to a soft boil before streaming the hot syrup into the egg whites and gently folding the resulting creme into the cooled pumpkin filling.
Finally, I poured the fluffy pumpkin chiffon filling into the pecan graham cracker crusts and topped the pies with a generous piping of maple whipped crea

m for a bit of sweetness.
Over the course of twelve days and eleven nights, Junes nurses did so much more than w

ei

gh diapers, check vitals and administer

IV

fluids. They be

came our family.
I kn
ew, as medical professionals, t

hey

would care for June physically (she
is now a happy, healthy four month old little girl who likely remembers nothing of those two weeks at the end of October

)
. B

ut w

hat I

didn't expec

t was that

they would care for all of our hearts so well.
For parents who rarely ever leave their children in another pe

rson's care, it
is such a strange thing

to

trust strangers

-

literally

-

with your child's life.
I vividly remember Lorinda commenting on my husband's ability to care for our older children while also sup

porting June and I at the

hospital. She told me I had been given the greatest gift of knowing that my children would be ok in the unimaginable event that something ever happened to me. And while I know she was referring to my amazing husband, I can't help b

ut

think that her sentiment applies to the loving care we received from strangers -

turned friends -

as well. And for that

, we will be forever grateful.
Great whi

te clouds are floating by;
All the world is dressed in green;
Many

happy birds are seen,
Roses bright and sunshine clear
Show th

at lovely June is here."